Powder drinks are one of the most popular forms of health supplements in the sports nutrition industry.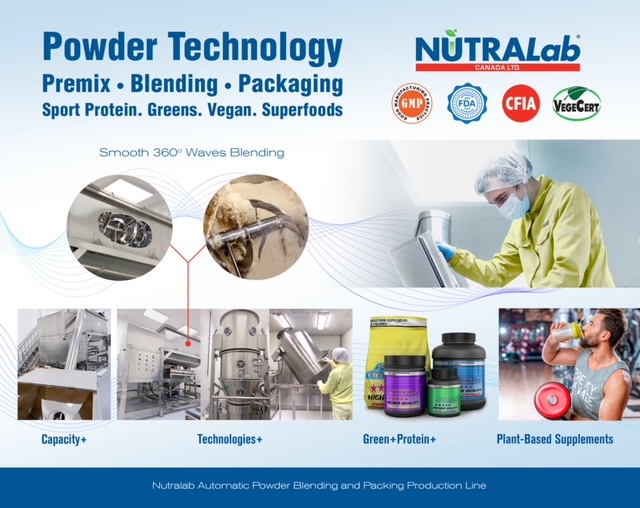 TORONTO – March 26, 2021 — NutraLab Canada Corp announced today the recent expansion of its existing facilities to meet the ongoing demand for private label powder supplements. At a higher capacity, the company is applying more innovative technologies in the development of premix granulating, smooth 360˚waves blending and packaging. Currently, powder technologies are widely applied to sport proteins, plant-based greens and protein powders, organic superfood plant-based protein powders, and vegan protein and supplements. "Powdered supplements are closer to the body's biological system of food intake, and doesn't require adding unwanted ingredients, as in the case of capsules or tablets," said Dr. Peter Ou, CEO & Chief Scientific Officer.
NutraLab has already been recognized as a leading manufacturer of traditional, full dosage products in soft gel, tablet, capsule, liquid syrups, gummies and powder supplements, in addition to its advanced packaging technologies. NutraLab has the expertise to deliver traditional methods of volume packaging, bottling, capping, etc., as well as provide individual sachets that contain multiple forms of supplements (softgel, powder and tablet), for a single-use dosage. NutraLab's recent expansion into innovative formulations with powders will further strengthen its strategic partnership with large global brands around the world.
About Nutralab Canada Corp
NutraLab is a supplement manufacturer, providing OEM and private label service for nutraceuticals and dietary supplement products. NutraLab's advanced manufacturing facility is approved by Health Canada for its Good Manufacturing Practice (GMP) site license, and by the US Food and Drug Administration (FDA). The facility also provides microbial and heavy metal testing with a strict internal quality control process. NutraLab's operations and manufacturing processes take place in a state-of-the- art facility in Toronto, Ontario, Canada. For more info, visit: https://nutralabcorp.com.