NutraLab Canada is a leading Canadian contract manufacturer for private label and custom formula natural health and vitamin supplement products. Backed by over 25 years of experience, NutraLab has quickly grown into one of Canada's premier custom natural health supplement manufacturers.
Industry Leading Expertise
Throughout the years, we have produced many of the market's leading nutraceutical, herbal, and vitamin supplement brands. In the highly competitive natural health marketplace, our products are expertly designed, formulated, and produced to succeed.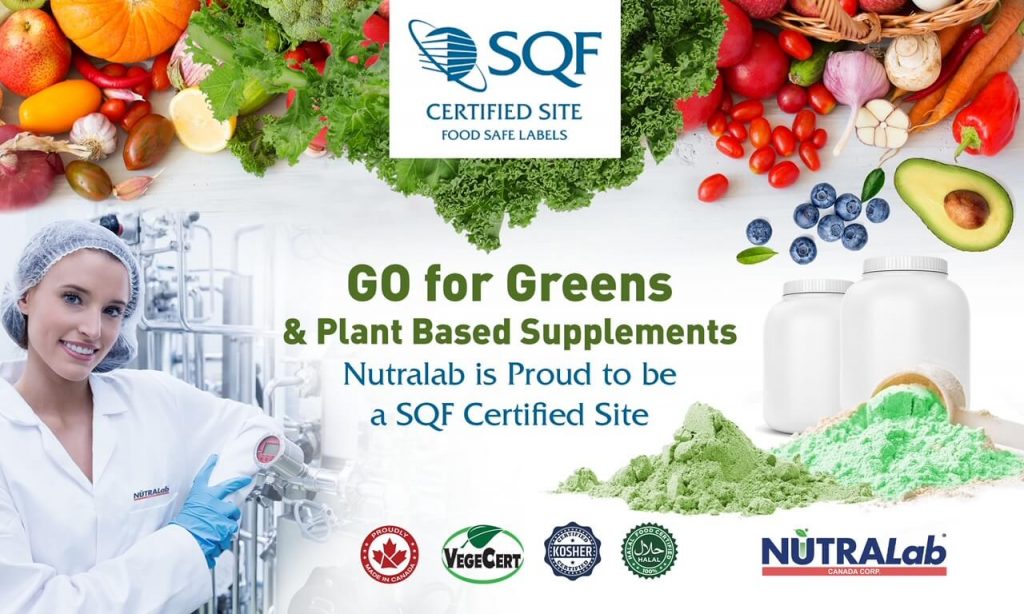 Go for Greens and Plant-based Supplements, Nutralab proudly being on the SQF certified Sites
Nutralab is pleased to be on the SQF Certified Site. Thanks to our teams efforts and the support from our industry partners, we are constantly pushing for success and continued improvement. With the latest facilities of Certified HACCP / SQF based food safety plans and GMP, Nutralab is now able to better serve our private label clients through manufacturing high-quality, organic, plant-based supplement products.

Plant based supplements and whole foods vitamins normally from fruits, vegetable offer a better absorption and bioavailability vis " synthetic vitamins " ; even the fact is that the majority of the supplements on the market today are synthetic ( process) , specially multivitamins, despite widely accepted view is that synthetic vitamins are chemically identical to those found in whole foods; However , whole form is more closer to the real nutrients, as all the vitamins, minerals, antioxidants and enzymes together work synergistically to give your body the nutrition it requires for optimal health; our manufacturer could prepare for the formula products as the dosage required as RDA in the form of powder ,capsule, liquid or tablet.
State of the Art Facilities
NutraLab is headquartered in a pharmaceutically designed plant with fully GMP-compliant and FDA inspected infrastructure, including HEPA air purification and a reverse osmosis water filtration system.

All manufacturing, packaging, and warehousing facilities are designed according to the most update FDA and Health Canada GMP requirements. Advanced in-house testing facilities include a state-of-the-art analytical lab capable of microbiology testing, chemical analysis for heavy metals, and tests for impurities, pesticides, and potency.
Committed to Your Success
NutraLab treats each new opportunity as a chance to create a long-term partnership, where we strive to help our customers develop and produce both pre-registered and original formulas. Our professional team of scientists, laboratory technicians, purchasing team, graphic designers and customer relationship executives work together to produce innovative natural health supplement products with the highest quality ingredients and formulas to meet regulatory requirements and label claims.

Founded, grown and operated in Canada for over 25 years as part of the Honson Pharmatech Group of companies, NutraLab has proven itself time and again to be one of world's leading natural health supplement contract manufacturers.
Advanced Manufacturing Capabilities
NutraLab is currently capable of advanced manufacturing and packaging for multiple dosage forms, including softgels, tablets, capsules, liquids, and powders. Packaging options include label design, small batch label printing, bottling, cartoning, blister packing, and new powder & liquid sachet packaging, great for single servings and sports nutrition products.